Is it possible to go to Hawaii and stay within a budget?  Years ago the answer to that question would have been a resounding, "No." But with our new goals in sight, we set out to do Hawaii without putting it on a credit card.
Here's how!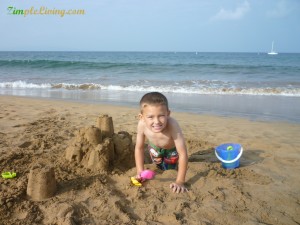 1) Travel with friends and family – This was most certainly not the romantic get-a-way trip for two that my husband and I were used to taking in our previous life (before kids).  Rather, to take advantage of the season where we have two littles under five years old, it just made sense to travel with my mother-in-law and some of our best friends. There were seven of us total.  That was the magic number to stay under if we wanted to all fit in the minivan rental.
Here we are just moments after landing at Kahului International Airport.  Someone is super tired!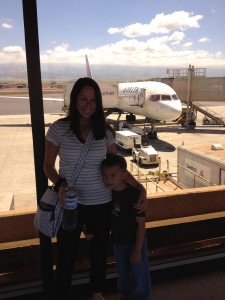 Fast forward a few days to…
…all of us at this Maui-must-do…the Old Lahaina Luau. Don't we all look so relaxed?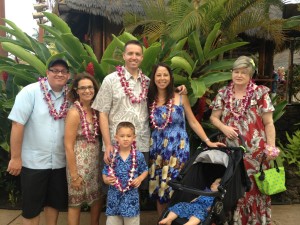 Guess who was so tired, she slept right through it…baby Crazy Love!  At least we have pictures for her to see later.
The food was amazing…seriously, amazing!  Especially when you consider how many people they had to prepare for.  Here's a look at some of our yummy desserts!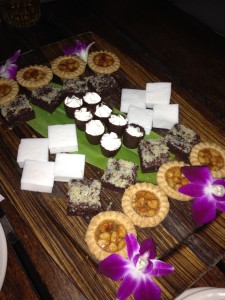 2) Stay in a timeshare instead of hotel – Unless you get a really good deal, hotels can be super expensive. So, we always use our timeshare when we travel so we can have the comforts of a kitchen, laundry and space. I've always thought we get more bang for our buck this way.  Don't get me wrong, we "pay" for the timeshare with our dues, but it's still a less expensive alternative.

This was our temporary home for the week: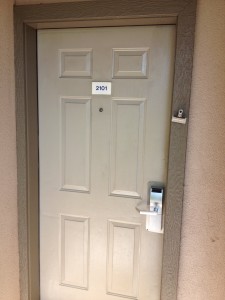 The timeshare has all the same amenities as a hotel would – pool, business center (in case you have to do some work), gift shop, and lanais.  What's even better though, is the fact that it has a full kitchen, washer & dryer (not that you want to do too much laundry on your trip, but it does come in handy for all that beach stuff), and separate bedrooms with doors (a real plus when you are travelling with a bunch of people).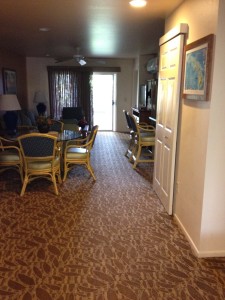 Our peek-a-boo view: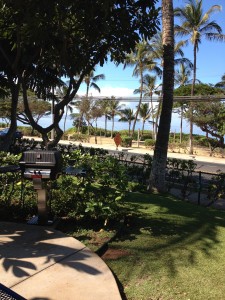 Plus…my kids don't really care where we stay as long as they have us and a few toys!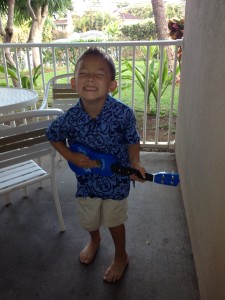 3) Don't upgrade your rental car  – We booked a mini-van online when we made our reservation, but when we got there, the agent enticed us with a fully-loaded Suburban for a "minimal fee."  When you arrive to pick up your vehicle, the agent will always ask if you want to upgrade.  Resist incurring the extra daily charges.  Just say, "No!"
Here's our car packed perfectly!  Even our luggage looks Hawaiian!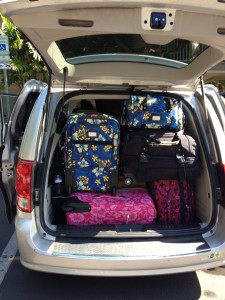 4) Share costs – We traveled with friends and family (who were wiling to travel with an 8 month old).  We paid for lodging (in this case, our timeshare), and our friends paid for the rental car.
5) Eat breakfast at home – The beauty of staying at a timeshare in Hawaii is that you are already in paradise.  We didn't need to spend money on an elaborate beach-front breakfast, when we could have cereal, eggs and fresh pineapple in the comforts of our condo.

Apparently, it takes a village to feed a baby without a highchair!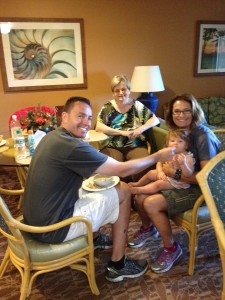 6) Pack a lunch – With mornings at the condo and nice dinners out, another way we cut our costs was by packing healthy lunches and snacks. Most days we found ourselves on the road to beaches, trails or shopping anyway, so…it just made sense for us to have food on hand.
Just look at this amazing beach!  And that sandcastle isn't so bad either, hmmm?
7) Use coupons from local ads – Oahu gold, This Week in Maui, etc. are great weekly mini-magazines that are chock full of coupons.  Pick these up at the airport before heading out.  You'll be happy you did.
8) Visit some food trucks – After seeing the same enticing sign in front of our condo for days, I finally decided to brave the food truck.  Turns out, it was the freshest calamari I've ever had.  I later found out that people travel from one side of the island to another just to get a mixed-plate from this food truck. The gourmet food truck owner and chef is also a known caterer on the island.  Who knew this was such a "find."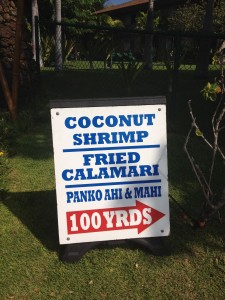 Her entire menu looked delicious!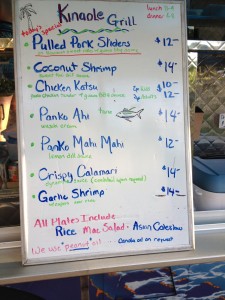 9) Go to happy hour for pupus  – Since we had built in babysitters (see #1 above), we went early and often for appetizers at the local PuPu Lounge.  I should explain that PuPu translates to hors d'oeuvres in Hawaiian.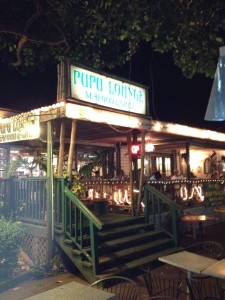 10) Don't buy your food at ABC stores – We quickly discovered that food on the island, even at grocery stores, was already pricey enough.  Add in the convenience of a corner market in or across from your hotel or condo and buying food at one of these places may prove to be even more painful to the pocketbook.
We did visit our neighborhood ABC Store for their amazing deals on Hawaii t-shirts and stayed away from the convenience food.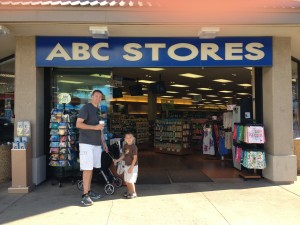 What a wonderful week in paradise!  We can't wait to go back.  Of course…it will be something to SAVE cash for!
Aloha!