When I was a kid I used to get hiccups all the time. I have no idea why, but this continued well into my twenties. One day, while waiting tables putting myself through college, another waitress heard my feeble attempts to take a food order at the next table and shared a remedy with me that has never failed. Must've been pretty bad for her to stop me like that.
Has this ever happened to you? You have the hiccups so badly it's embarrassing? I feel your pain.  They never show up at the perfect moment now, do they? It's kind of hard to take someone seriously when they are bopping around all over the place with hiccups, especially if they are the kind of hiccups with the bonus burp at the end because you can't catch your breath. You know what I'm talking about, right? Bonus burp or not, hiccups are an annoying nuisance to say the least!
You don't have to suffer through it.
Because…
The remedy she turned me onto way back then is something I continue to use today, although I have tweaked it a little since then. It still works.  And wouldn't you know it, when I was pregnant with my son, he got the hiccups 10-20 times a day in the womb. It's not as bad today. But at 7 years old he still gets hiccups pretty regularly.
It's okay though…because this trick works every time.
You want to know what we do?
The remedy is so simple it will sound silly. You will be skeptical, but trust me…when your hiccups last so long you feel like you just finished a cardio workout, you'll remember this remedy and try it.
And for those of you who like options, well…I have three different ways to get rid of your hiccups. You try the one that works best for you, ok?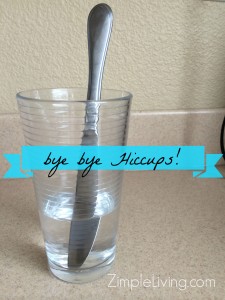 Remedy #1
Here are the tools you will need:
Glass

Water

Butter Knife

Oh…and person with active hiccups!
Easier said than done, but just try to breathe and relax. Hiccups usually occur when we've eaten too fast or are breathing too quickly. Both of those scenarios can be due to a lack of oxygen, so slow down and take a seat.
First, fill your glass at least half-way with water

 (notice I said half full for all the optimists out there!). Just water. No ice, okay? Ice will just get in the way.
Second,

place a butter knife in the glass with the handle sticking up

. You don't want the knife upside-down. You'll see why in a minute.
Put your mouth on the rim of the glass with the knife at the opposite side of the glass. Get the knife positioned so it's resting against your forehead. See why it's the handle and not the sharp edge here? While the knife handle is resting against your forehead, slowly tilt your head back to sip. Don't worry, no one's looking. I promise! Stay with me here. Your hiccups are about to vanish!

Keep drinking the water and keep that knife against your forehead.

This ensures you are sipping continuously. You don't have to drink it all in one breath. The key is slow and steady. You can rest and breathe through your nose, but don't take the glass or knife away.  Just keep drinking
Like this…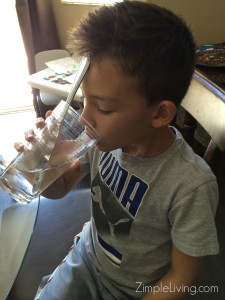 Or how about this? It's so easy even my three-year old can do it.
How's that? I bet your hiccups are gone.
But, because I said I'd give you THREE effective ways, here are two more. People like options, right?
If the thought of glasses and knives has you running for the hills, then I have two other remedies for you to try.
While remedy #1 has worked for me for decades, there are times that I'm nowhere near a glass of water. And, If you know me…you know that I will always have my essential oils handy because we have learned how to incorporate them into every nook and cranny of our daily lives.
Which oil do I use?
The one I reach for in this case is Peppermint Essential Oil. Peppermint oil has over 300 different uses. And, the coolest thing about it is that the oil from the peppermint plant is 50-70 times more potent than the herbs themselves. Peppermint is great for temporary discomfort due to occasional upset stomach and even nausea due to morning sickness, which is why it makes sense to use it for occasional hiccups.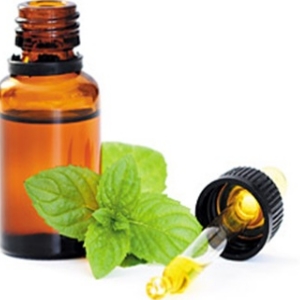 Remedy #2
Put a few drops of peppermint essential oil into your hands, rub your hands together, then cup your hands over your nose and mouth (don't forget to close your eyes), and inhale deeply. Do this for a few minutes and you will instantly feel your airways open. Before you know it, those pesky hiccups will be a thing of the past.
For those of you who like choices, I have a third option for you. It's sort of a combination of the first two remedies, but without the knife.
Remedy #3
Put a few drops of peppermint essential oil in a glass of water (no knife) and drink it down. See ya later hiccups!
I know you (secretly) can't wait to try out these remedies for yourselves. I can't wait either. I would love to hear how it goes for you. They've never failed me. They work like a charm every time.
Simple, right?
There's way more to do in life than wait for those darn hiccups to pass, so go for it. What do you have to lose?
Go show your hiccups who's boss!
If you want to know more about essential oils including how to use them and what brand my family uses, then please email me at zimpleliving@gmail.com for more information.
Disclaimer: The information on this page is intended for educational purposes only. I'm not a doctor. I'm just a mom who does what I can to help my family naturally. Even though hiccups are not a serious medical condition, these statements here have not been evaluated by the Food and Drug Administration. My personal home remedies are not intended to diagnose, treat, cure or prevent any disease. Anyone suffering from any disease, illness or injury should consult with a physician. While hiccups are not life threatening, if they do last longer, then you should consult with a doctor.