I am always on the lookout for a good deal, but this was the FIND of the century! 
Part of my escape from excess means that I am attempting new ways to do things.  New ways mean that I'm trying my luck at shopping sales, clearance racks, and out of season items.  This would normally make me a little nutty, but if you are following our journey, you know that we are challenging ourselves to do some things differently these days in order to strip down, save money and get back to basics.
Recently, I was invited to attend an award ceremony for a dear friend who was being honored for her contributions at the university where we both work.  This was a big to do, which begged the question, "What on earth am I going to wear?"
Being a mom of two littles, you have to know that #1, I don't get out much, and #2, I definitely don't have anything snazzy enough in my closet to wear to a shindig like this!  You're talking to someone who is most comfortable in a pair of capris and a tank top.  Naturally, this had me a bit concerned.
Hence my dilemma. Oh, and did I mention the banquet was that same evening?
With absolutely no time to shop, I popped into Nordstrom Rack on my way home from work, but before picking up my daughter from daycare. I literally had about 15 minutes to spare.  And for all of you who will get me on the technicality, it was a Nordstrom Rack and not "Nordstrom" as the title implies, but still the same labels, same great clothes and shoes!
My shopping pit stop took all of about 15 minutes.  I grabbed six dresses off the rack and tried each one on in a flash. I narrowed down to two and then looked at the price tag for the deciding factor.  Here's what I saw…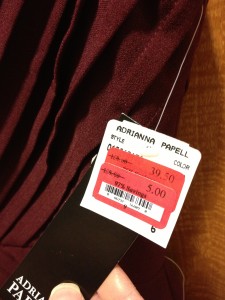 No… that couldn't be right!  $5 for a really nice cocktail dress? 
I took it to the checkout and even the salesperson questioned it.  She scanned it twice.  It came up $5 both times!  I felt like that Ikea commercial, "Go, go, go, go!"
Here's the dress in action!  It took everything in me to not shout out to the masses…"I found this dress for five bucks an hour ago!"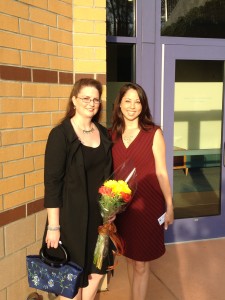 So, what's the moral of my story?
Don't give up on stores where you may have to search a little to find something that is perfect for you
Swing by the sales rack to snatch a good deal
Shop out of season to get really great deals (like my $5 dress)
More ways to save money to come!